Over the years, the Monsterlist of Halloween projects has been the lucky recipient of several awards.
---
Andrew Doyle informed me that the wonderful people at www.allfancydress.com voted the Monsterlist a winner:

We are pleased to announce that http://www.halloweenmonsterlist.info/ has been voted as a winner in the category 'Best Halloween Craft Website' at our annual Halloween website awards. We created the awards to celebrate the best Halloween themed websites and content over the last year. We have just published the awards on our site and have had some great responses from our visitors so far.
I have added some details of the award below.
Category: Best Halloween Craft Website
Category URL: http://www.allfancydress.com/blog/post/The-All-Fancy-Dress-Halloween-awards-best-Halloween-craft-website.aspx
Website Awards URL: http://www.allfancydress.com/blog/post/All-Fancy-Dress-honour-the-webs-spookiest-sites-for-our-Halloween-Awards.aspx
Congratulations to you on your win and we are looking forward to visiting your site in the future.
---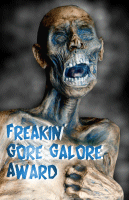 I think you need an award for your contributions to the Halloween Industry. It takes alot of work to maintain this site so please accept our award for your hard work.
Kevin aka Mr. Gore
---
Way back in 2002, the Monsterlist was inducted into the Ghool School Hall Of Fame! Sadly, I have lost the graphic, but their wonderful message read:
Please accept our congratulations as The Monster List has been selected as a
Ghoul Skool
2002 Hall of Fame Inductee. This award is only bestowed on the best ten websites per year as reviewed by our staff.
Congratulations on one of the best sites on the web.
Dean of Instruction
Ghoul Skool
---
Steve Kristof owner/operator Doomsday Productions www.doomsdayproductions.com was kind enough to create a custom logo for me

use it if you like!